Raidon Technology, Inc. announces internal RAID storage – iR2023, designed in one CD-ROM bay for 3×2.5″ 6Gb SATA SSD, comes with 3×9.5mm metal tray with lock and provides one disk array for RAID-1/0 and one independent volume.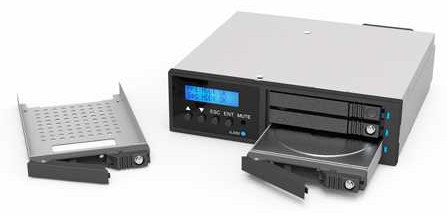 iR2023 adopting 2+1 design, is made up of 2 RAID disk arrays support RAID-1/0 and an independent JBOD that has the separate SATA host interface. The JBOD disk can be used as SSD backup, can be used as removable storage for on the go data transport, and can be used as replacement HDD for rebuilding while another RAID disk is damaged. It has more functions on the data security, the instant backup and the data to go, it provides users more diversified applications, and suitable for the professional workstations, file servers and real time backup storage systems.
The iR2023 is built-in WM6182 chipset, and is equipped with LCD display and LED indicators for system monitoring. It also support RAID fail alarm function, fail LED signal and alarm buzzer on/off button, so that users can check the status of system all the times. It comes with the 2.5″ hot swappable metal drive tray 9.5mm with lock to secure the drive in place and to protect the data safely. It is equipped with the 4cm silent fan for heat dissipation and usage of HDDs extension.
Click to enlarge

iR2023 is the dual function storage, offering the backup data security and also for on the go data transport. It is a choice for an internal RAID storage.
Features:
Support JBOD (disk1) and RAID mode: 0/1 (disk2/disk3)

Support 2.5″ HDD/SSD and 3×2.5″ 9.5 mm metal tray with lock

RAID fail/temp fail alarm function

Support active LED/fail LED signal (JBOD only)

Support LCM display (RAID only)

Support alarm buzzer ON/OFF button

Hot swap and plug and play

RAID mode exchange to button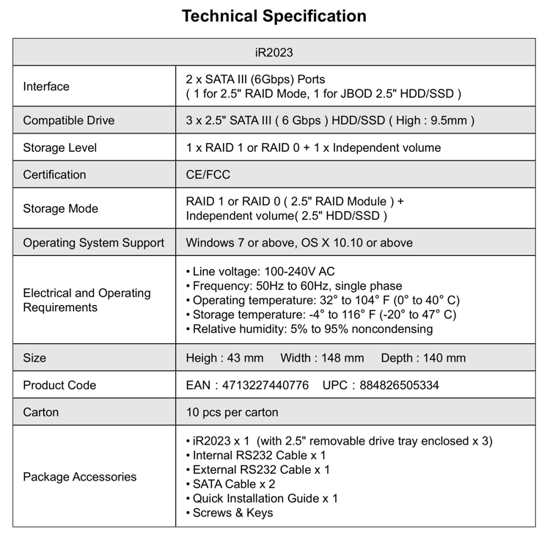 Read also:
Stardom (Raidon) SR4-SB31+ 4-Bay USB 3.1 Gen 1 RAID Appliance
With one e-SATA and USB Type C interfaces, can support data transmission and provides 24W USB power delivery for notebook charging and one Display Port for 2nd monitor expansion.
November 4, 2019 | Press Release
Raidon 5.25-Inches iT4300-U6 Internal JBOD Module For Four 2.5-Inches HDD/SSD
Using SFF-8643 12Gb SAS connector
March 2, 2018 | Press Release
https://www.storagenewsletter.com/2020/01/02/raidon-ir2023-internal-raid-storage-with-3-bay-for-2-5-inches-6gb-sata-ssd/